Are you one of the 160 million-plus people in the U.S. who drinks coffee or tea on a egular basis? Do you also flavor your beverage with sugar, cream, flavored syrups, or other calorie-laden additives? Well, I have bad news for you. A new study, conducted by the University of Illinois, reveals how much Americans are increasing their caloric intake when they add sweeteners and creamers to their beverages.
What the Data Tells Us
The research analyzed 12 years of data – from 2000 to 2012 – collected from the National Health and Nutrition Examination Survey. The data comprised of a nationally representative sample of 13,185 adult, who preferred coffee, and 6,215 adult, who claimed tea as their drink of choice.Based on this sample size, 51% of U.S. adults drink coffee and nearly 26% drink tea on a daily basis. Then about two-thirds of coffee drinkers add cream or sugar, whereas only one-third of tea drinkers flavor their drink."Many people prefer drinking coffee and tea with sugar, cream, half-and-half or honey," said Ruopeng An, who led the study. "These add-in items are often dense in energy and fat but low in nutritional value."
---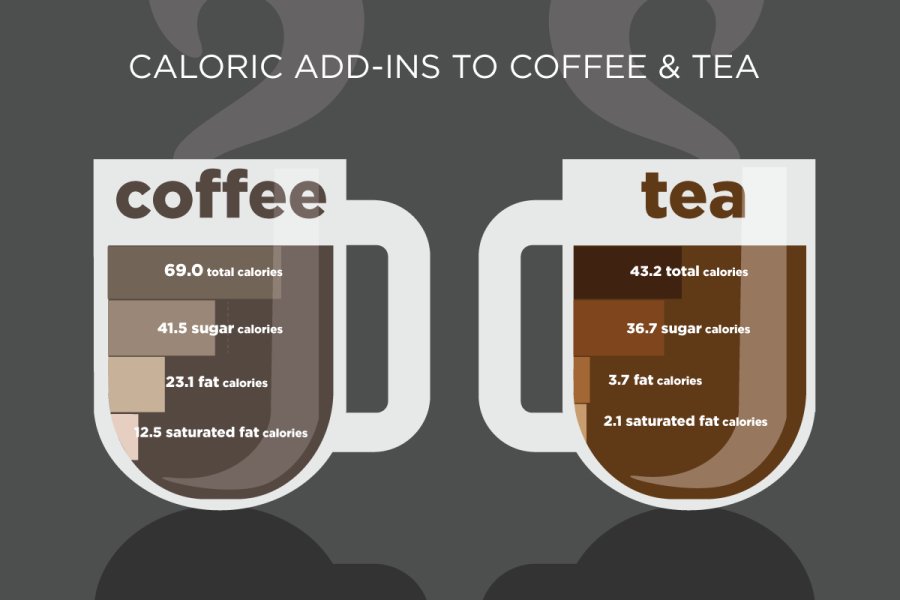 Graphic by Julie McMahon
---
Drinking coffee black results in 69 fewer total calories per day, on average, than mixing it with caloric add-ins. More than 60% of the additional calories come from sugar. The rest of the added calories comes from the rich, fatty creamers. As for tea drinkers, additives can, on average, increase the daily caloric intake by 43% or more; most of the added calories – about 85% – come from sugar. However, most tea drinkers tend to avoid additives.Though small increases, consuming more calories than necessary ultimately adds to extra pounds. Ruopeng An says, "Our findings indicate that a lot of coffee and tea drinkers regularly use caloric add-ins to improve the flavor of their beverages, but possibly without fully realizing or taking into consideration its caloric and nutritional implications."
Being conscious of what you put into your body is important for maintaining a healthy diet. And, a healthy diet is important for improving your quality of life. Another way to improve your quality of life is health insurance. Make sure you have the right healthcare plan for you so that all your future medical needs are covered. Contact one of our agents today!
Get affordable health insurance quotes by clicking here.
For immediate assistance, call us toll-free at (844) 410-1320!
---
Because insurance is oftentimes overwhelmingly confusing, we want to shed light on this industry by answering YOUR questions. So if you have any questions or concerns, comment below and your question may be the topic of our next video!