As with the rest of the market, Starbucks saw a major decrease in their stocks in mid-March amid the coronavirus pandemic. With 15,000 stores in the United States alone, Starbucks was forced to close their cafes throughout the COVID-19 pandemic, and they suffered along with many other businesses. The coffee giant offers every ordering platform from their mobile app to curbside ordering available on their website, this kept their revenue decrease at only 5% in the first three months of 2020. While Starbucks has survived, they expect results from the current quarter to be even worse. Once priding themselves on being the "third place" after home and work for people to visit and relax, Starbucks is looking to become a more convenient coffee buying experience now that COVID is here to stay.
Starbucks Announces Major Transformation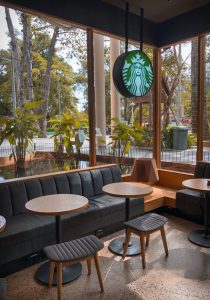 From the beginning of 2020, Starbucks began brainstorming ways to make operations safer. While new ideas had already been in the works for a few months, coronavirus sped up the process they would have inevitably begun. The drive-thru is where Starbucks sees a majority of their business, in the stores that have them, that is. Only about a third of Starbucks stores actually have a drive-thru, which seems shocking to some after seeing how long the drive-thru line is each and every day. According to their new plan, 60% of Starbucks's future locations will have a drive-thru, and they will even install them in some of their older buildings. Major cities such as NYC would have no need for a drive-thru, but many of their cafes will revert to walk-up windows to cater to those who are constantly on the go. Starbucks even announced part of their major transformation will be increased curbside pickup options, so you can order ahead and simply claim a spot to wait for your caffeine fix. Any stores that do bring back cafe seating will still be limited – much of the furniture will go, leaving room for a limited number of occupants.
Baristas See Upgrades
Behind the counter, baristas will benefit from Starbucks's newest espresso machine. The brand has created a newer, more efficient machine to pull espresso shots and will allow baristas to prepare a broader range of drinks on one machine. These new machines will also keep track of how many shots have been pulled and will alert employees when it is time for routine maintenance. While one machine may not seem like a major upgrade, this will increase the speed with which your local barista can make your drink(s), and that will keep the never-ending coffee line seem a lost less daunting. In fact, Starbucks believes the interaction between the customer and the barista is the most important part of the experience. So making the preparation process a lot faster will leave more time for the barista to greet and bond with their customer. Starbucks has accepted what many other places haven't: their stores are simply an extension of their app.
Insurance Questions?
Empower wants to help you get the best insurance for your needs and the most for your money. We want to help you stay on top of your health.
CALL US at (844) 410-1320
Get affordable health insurance quotes by clicking here.
See our other websites:
EmpowerLifeInsurance.com
EmpowerMedicareSupplement.com
EmpowerMedicareAdvantage.com