The continuing COVID-19 pandemic has shut down gyms all over the world. Many have frozen accounts and their personal trainers are left scrambling to keep their trainees on the right track. If you are someone who regularly works with a personal trainer at a gym, they may be sending you regular workouts to keep you fit and upbeat during this time. However, not all of us have that luxury and still need a boost in our at-home workouts. Many fitness experts have already started uploading at-home workouts on their Instagram accounts, others will undoubtedly begin following that trend. Here are some of the best at-home workouts through apps and fitness companies to help you accomplish your fitness goals in the comfort of your own home!
Nike Training Club App
Nike was saddened to announce the temporary closing of all its brick-and-mortar stores, but they vow to keep their customers and fans in tip-top shape with their Nike Training Club app. For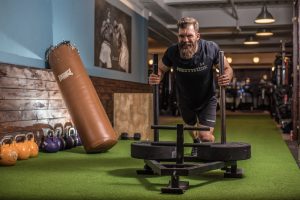 $14.99 per month, users receive a variety of workouts designed by trainers. If you need more workouts than the standard version has to offer, Nike recently made its premium version free to members. The app includes everything from HIIT (high-intensity interval training) to yoga, everything you need to maintain your physical health.
P.volve
Designed as a total-body and strengthening fitness platform, the company is offering a free 30-day trial. To access over 100 workouts, visit their website and select "Start My Free Trial." Their workout plans start at $19.99 per month. You can also find quick workouts on their Instagram Live feed and extras on their YouTube channel.
Barry's
Barry's Bootcamp is a celebrity favorite, but now the studio is offering some of their workouts without the celeb pricing. Barry's is offering 20-minute total-body workouts on Instagram and requires no equipment! These videos are live and class times will vary, check their Instagram for class times.
SkyTing
Based in NYC, this yoga studio is offering a free week of their video platform, SkyTing TV. After you try it out (and fall in love!), video classes are $20 per month. This is not only a great workout, but it is also the perfect way to relax your mind and relieve stress during this difficult time. Yoga has proven to be beneficial to your mind and body.
305 Fitness
If regular workouts bore you, try this dance cardio-style workout! 305 Fitness offers plenty of free courses on their YouTube channel and they make them easy to follow. This is an exercise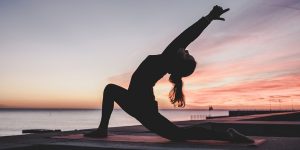 you can do with everyone you are currently quarantining with, as it is a great "group" exercise.
CorePower Yoga
Offering multiple free yoga classes online, this studio is empowering all of its clients to stay fit at home. Use their CorePower Yoga On Demand portal to access videos and tips on maintaining a healthy workout regimen while staying healthy at home.
Fhitting Room
If you like an intense workout, Fhitting Room offers 30 days of free HIIT-style workouts. These will give you a great workout, no matter how long you run your session. These are usually total-body workouts and will give you a little bit of everything at a high intensity. These are great for the true exercise junkie.
These are just a few of the best at-home workouts. Social media is a great place to find trainers who are looking to extend their knowledge to others during these difficult times. These are great for people who do not like working out alone, having someone virtually train you is a great motivator. If that isn't enough, get a friend on a video chat to do it with you as you follow the videos. Any exercise is great but a good workout is hard to come by unless you have a gym at home. Stay healthy at home and keep moving!
Insurance Questions?
Empower wants to help you get the best insurance for your needs and the most for your money. We want to help you stay on top of your health.
CALL US at (844) 410-1320
Get affordable health insurance quotes by clicking here.
See our other websites:
EmpowerLifeInsurance.com
EmpowerMedicareSupplement.com
EmpowerMedicareAdvantage.com