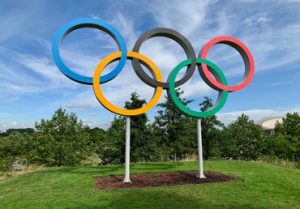 Japan is preparing for the 2021 Olympics and is considering the idea of allowing international tourists back into the country next spring. The ban could be lifted as early as April, according to Travel Daily Media.
According to the Japan Times, a procedure that the Japanese government has been discussing would be requesting visitors to download a health and wellness app to monitor daily body conditions. This would replace the current policy which requires all incoming people to undergo a 14-day quarantine upon entry to the country. It is also possible that foreign visitors will have to purchase private medical insurance prior to their trip abroad.
While the scheduled Olympics are still roughly 10 months away, Japan has to prepare for everything and anything that might get thrown their way. From figuring out tourism, to the Olympic Village and more, Japan must come up with a very detailed plan to make sure that they are prepared for such a large scale operation like the Olympics in a pandemic. Ten months is a long time from now, and there is no telling where the world might be in regards to COVID-19.
How much testing will Japan need? Are there going to be measures in place for people who test positive? If a foreign tourist or athlete brings it, will their group have to quarantine in order to limit the spread? These are the questions that Japan must have answers to well in advance of next summer's scheduled start.
The Olympics could end up being the first large scale event with spectators held in the pandemic world, with the games taking place over a two week period starting on July 23. In the same vein, the NBA is looking more likely to begin around Christmas Day, with the intent of finishing by the middle of July so their players can participate in the Olympics. The NBA's involvement in the Olympics is especially important to the players, as the NBA is becoming an increasingly international game and those players want to showcase their talents on sport's biggest international stage.
Health Insurance Questions?
We hope this information on Japan is preparing for the Olympics is helpful. 
Empower Brokerage wants to help you understand the insurance coverage you need and how to save money getting it. Stay on top of your health and give us a call at (844) 410-1320
Get affordable health insurance quotes by clicking here.
See our other websites: