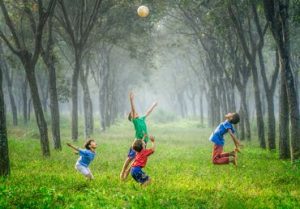 Parents of unvaccinated kids have a lot of questions as far as guidelines go for how they are supposed to interact with one another. No one under the age of 16 is eligible to receive a COVID-19 vaccine, leaving a lot up in the air to households who are partially vaccinated.
While vaccines are currently not available to children, they might be before too long. According to Dr. Leana Wen, vaccines for children may not become available until 2022 with results coming later this summer. Despite children not being able to be vaccinated yet, in person learning is deemed safe to resume. Because everyone in a school is wearing masks, the chances for transmission of the virus will be lower than the community level, making it one of the safest places for a child to be while COVID-19 is still prevalent.
However, parents being vaccinated makes the household a lot safer as well. According to the current CDC guidelines, vaccinated households can gather together without wearing masks or social distancing. In the event that there are children present who cannot be vaccinated from different households, the CDC is still recommending six feet of distance between members of different households and to gather outdoors. While the risk of spreading the virus in smaller children is less than adults, the risk rate for teenagers is along the same lines for that of adults.
Ultimately, it is up to each individual family to make the best decision for themselves regarding who to see or not see. If the country continues at the current vaccination pace, 90% of the adult population in America will be vaccinated thus eliminating essentially all of the risk involved when it comes to spreading the virus. If those numbers become reality and are true, then the risk of mixing unvaccinated children from different households will be a moot point as everything will quickly dissolve and herd immunity will have been reached. As of right now approximately 12% of all people in Texas are fully vaccinated, receiving both doses from Pfizer or Moderna. The new Johnson & Johnson one-dose vaccine counts fully vaccinated individuals as people who received the shot two 14 days ago to date.
Health Insurance Questions?
We hope this information on Parents of Unvaccinated Kids is helpful. 
Empower Brokerage wants to help you understand the insurance coverage you need and how to save money getting it. Stay on top of your health and give us a call at (844) 410-1320
Get affordable health insurance quotes by clicking here.
See our other websites: