Blood donation centers all over the United States are working tirelessly to collect plasma from patients who have recovered from COVID-19. This is the latest effort to save people who are currently battling the virus, for which there is no cure. International nonprofit agency AABB released guidelines on March 31 stating that these blood centers could become a vital source for "convalescent plasma therapy" to treat COVID-19.
Convalescent Plasma Therapy to Treat COVID-19
Using blood products from patients who have recently recovered from the coronavirus, medical experts are then able to inject them into patients currently suffering from the virus. This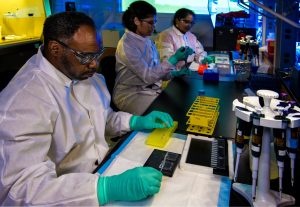 therapy started as an experiment in 1918 during the flu epidemic, it was then used to treat measles in the 30s. Most recently we have seen it with Ebola and H1N1. While the treatment is not guaranteed to cure any viruses or diseases, studies show that it has reduced symptoms and death in previous outbreaks. As experts continue to research a cure for the virus, this plasma therapy has become the best option to at least try to limit fatalities. Dr. Louis Katz, an expert in the field, says, "There are historical precedents that [plasma therapy] may be beneficial and enough early data that it's safe."
Who is Eligible?
Right now, only those who are critically ill are using convalescent plasma therapy to treat COVID-19. Thus far, only two patients in Houston have been treated with plasma therapy and doctors are still awaiting results. Dr. Katz's hope is that as other groups join the effort, this plasma therapy will take off and expand the potential treatment of the virus. Community blood centers will draw plasma from patients who had COVID-19 but are now testing negative. Donors can donate every 28 days, as long as they have not shown symptoms of the virus in that amount of time. Medical labs and companies are quickly trying to come up with tests that use "a pinprick of blood to detect infection-fighting antibodies to the virus." Until then, centers can use plasma from COVID-19 patient donors, which will quickly be sent to extremely sick cases, and tested for antibody measurements at a later time. A new drug authorization is required in order to inject the plasma into a patient, but not to receive and test it, so plenty of samples have been made available.
Where Does Research Currently Stand?
The University of Washington and the National Institutes of Health are working together on a study using collected plasma. This study hopes to shed more light on the possibility of this plasma therapy helping COVID patients. A national registry is also being created to track the outcomes of this therapy. It is expected to be popular among patients as it is low-risk and has the potential to help many people. Any recovered COVID-19 patients interested in donating plasma can visit The American Red Cross' website.
Insurance Questions?
Empower wants to help you get the best insurance for your needs and the most for your money. We want to help you stay on top of your health.
CALL US at (844) 410-1320
Get affordable health insurance quotes by clicking here.
See our other websites:
EmpowerLifeInsurance.com
EmpowerMedicareSupplement.com
EmpowerMedicareAdvantage.com