How does your state rank in the percentage of those uninsured? A new report by Families USA has given us an updated list of the highest uninsured rate by state population for 2020. These numbers have dramatically increased since the beginning of COVID-19. With close to 5.4 million Americans losing their coverage due to job losses and being furloughed, now is the time to contact your insurance agent to make sure you and you're family have some type of coverage.
As of May 2020, the total percentage of all uninsured adults in each state are the following:
Texas: 29 percent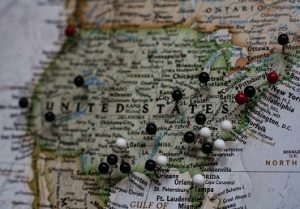 Florida: 25 percent
Oklahoma: 24 percent
Georgia: 23 percent
Mississippi: 22 percent
Nevada: 21 percent
North Carolina: 20 percent
South Carolina: 20 percent
Alabama: 19 percent
Tennessee: 19 percent
Idaho: 18 percent
Alaska: 17 percent
Arizona: 17 percent
Missouri: 17 percent
Wyoming: 17 percent
New Mexico: 16 percent
South Dakota: 16 percent
Arkansas: 15 percent
Kansas: 15 percent
Louisiana: 14 percent
Virginia: 14 percent
California: 13 percent
Colorado: 13 percent
Illinois: 13 percent
Indiana: 13 percent
Maine: 13 percent
Montana: 13 percent
New Jersey: 13 percent
Oregon: 13 percent
Utah: 13 percent
Michigan: 12 percent
Nebraska: 12 percent
Washington: 12 percent
West Virginia: 12 percent
Delaware: 11 percent
Maryland: 11 percent
New Hampshire: 11 percent
North Dakota: 11 percent
Ohio: 11 percent
Connecticut: 10 percent
Hawaii: 10 percent
Kentucky: 10 percent
New York: 10 percent
Pennsylvania: 10 percent
Wisconsin: 10 percent
Iowa: 9 percent
Rhode Island: 9 percent
Massachusetts: 8 percent
Minnesota: 8 percent
Vermont: 7 percent
District of Columbia: 6 percent
Record-Breaking Numbers
The uninsured rate by state rankings is shocking, most notably Texas with an estimated 659,000 Texans losing their healthcare. The report also stated that the past few months have been the "deepest economic crash since World War II." The pandemic has left more people uninsured than ever recorded. It surpasses the previous record by 39% from 2008-2009. Those who are not currently covered due to job loss should look into COBRA plans, which allow you to keep current coverage that your workplace provided. You also might be eligible for a special enrollment period which is a time you can sign up for health insurance outside of the yearly Open Enrollment Period. Talk to your agent today and see how they can help provide you guidance with your insurance questions.
Health Insurance Questions?
We hope this information on Novavax Getting $1.6 Billion to Expedite a COVID vaccine is helpful. If you are experiencing symptoms of coronavirus such as fever, cough shortness of breath, or any other symptom defined by the CDC  consult with your doctor.
Stay on top of your health insurance by CALLING US at (844) 410-1320
Get affordable health insurance quotes by clicking here.
See our other websites: