If you are looking for a fun way to exercise, look no further than cycling. But don't be fooled by those bike rides you took with friends as a kid; true cycling takes stamina and the ability to persevere. If you ride properly, cycling can whip you into shape in no time. While it is highly suggested you start small, beginning to ride for sport is not as hard as it seems. The following tips are for beginner cyclists looking to start strong.
1. Find the Right Bike for YOU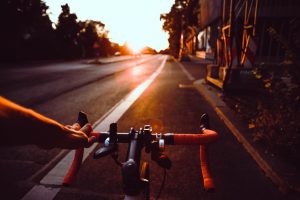 You may already own a bike, and that is great for taking a spin around the block a few times. But if you are looking to train yourself for distance riding you need to be sure your bike is just right for you. When you begin cycling, think of a bike that is suited for the road (i.e. city streets and bike paths). The first step to choosing a bike is to size it to fit you; standing over the bike you should have about an inch between your body and the top tube. Since you may not be able to judge the right fit for you, experts suggest going to a bike shop rather than your local Walmart or sports store. The bike you choose should also fall in your budget and riding style. If you intend to be a casual rider for regular exercise, it's not necessary to find a bike fit for distance riding or racing. Do consider what your intentions are with cycling: if you hope to be a distance rider in the future then it's perfectly acceptable to start with the proper bike for your goal.
2. Acquire the Proper Gear
The most important piece of equipment to purchase with your bike is a helmet. Contrary to belief, helmets do have a shelf life so don't rely on one you found under cobwebs in the garage. Try on different sizes and styles to find out which one fits comfortably and still meets safety standards. As far as outfits for riding, it is important to note that you do not have to wear the spandex in order to be a serious rider. Cycling kits are highly recommended because of the comfort and how they breathe, but they aren't necessary. Simple athletic gear and tennis shoes are adequate for someone who is not looking to start racing or bike long-distance. You may also want to invest in some tools such as tire levers, a mini pump, a multi-tool, and a quality water bottle.
3. Create Good Riding Habits
Start small with your rides, it will take a toll on your body and strain your muscles at the beginning. Perhaps one of the greatest tips for beginner cyclists is to be realistic. Plan realistic first rides and then set realistic goals for yourself to achieve. Practice the same routine each time you ride: begin by organizing everything you will need to bring with you on your trip. Ensure that your bike is properly prepped with air in the tires and working brakes. Pumping yourself up before each spin will set you up for a great ride and motivate you to keep going.
4. Practice Bicycle Safety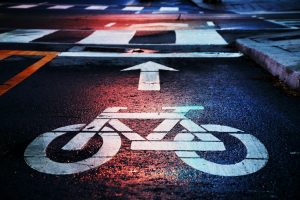 Wearing your helmet is, of course, the top safety rule. But currently, the CDC is still suggesting everyone wear face masks while out in public. Breathable cloth material will be best while exercising. Make sure you can breathe properly in order to get enough oxygen while riding. Further, you should always have a kit with a basic multi-tool, a form of ID, and cash in case of an emergency. It is also important to note that even on a bicycle you need to adhere to all traffic laws and keep an eye on traffic because you can't assume the cars on the road can see you. Lastly, never wear earbuds or headphones while riding, you need to be able to see and hear everything around you!
5. Join a Group
Riding alone can be peaceful, but finding a group to join is a great way to stay motivated. You can ride with one or two other people now and still maintain social distancing, but once it is lifted there are many groups to join. You can find groups on social media or visit a local bike shop to find their riding calendar. You may also find that riders in these groups are very experienced and would be willing to share tips with you. This is also a great way to get involved in charity rides and races, training with a group will make it that much better!
Insurance Questions?
Empower wants to help you get the best insurance for your needs and the most for your money. We want to help you stay on top of your health.
CALL US at (844) 410-1320
Get affordable health insurance quotes by clicking here.
See our other websites:
EmpowerLifeInsurance.com
EmpowerMedicareSupplement.com
EmpowerMedicareAdvantage.com