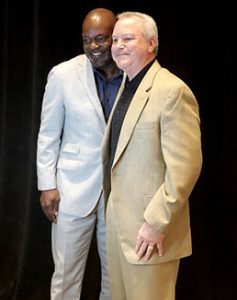 We all have a responsibility to others. Whether it's a friend, team member, or the customers we work with, as fellow human beings we want to provide the best option for each individual based on their needs. As insurance agents, each client we deal with our mindset should be just that. If there was a better option for them to get more benefits, better fit their season of life, or save them money we would want to give them that option. Once you work with a client, whether its a friend, family member or acquaintance you become a team.
Mutual Omaha Introduces New MA Plan
It's no surprise, with Mutual of Omaha's new MA plan entering the market they want to get this point across. Serving others with the mindset of giving members the best options for their life instance. To provide this disposition to agents planning to sell this new product this fall, Mutual partnered with Empower Brokerage to bring in someone who knows a little about doing what's best for the team. Can you guess who? Here's a hint, 18,355 career rushing yards, 164 rushing touchdowns, & Three Superbowl rings. All-time rushing leader and Hall of Fame player, Emmitt Smith!
Emmitt Smith Speaks On Helping Those Around Us
Emmitt Smith spoke with agents at Wednesday's event at the Omni Frisco Hotel. Smith spoke on how being a team player and doing what was best for your team builds real success. This includes your client, fellow staff member, or partner on the field. We have an obligation to those we work with on the day to day to use our positions to bolster those around us and give them an opportunity to succeed.
A Standout MA Plan
With Mutual of Omaha's new MA product, they hope that agents will consider doing what's best for their clients. This includes offering plans that provide services that fit their needs now. Whether it be their stand out buyback, low premium cost, or superb deductible on prescription drugs, their MA plan is sure to be a great option for your clients. These are the types of benefits that can help fortify your client's insurance needs. This AEP, remember when working with clients you've had help to put you in a position to help others. And in the words of Emmitt Smith What you have accomplished wasn't achieved by yourself. Without others, none of this would have been possible.
Insurance can be confusing and we want to help you understand it better. We can help you find out what coverage you need and how to save money from getting it. Call us with your questions at (844) 410-1320.
If you comment below, your question may be the topic of our next post!
Get affordable health insurance quotes by clicking here.
See our other websites:
EmpowerLifeInsurance.com
EmpowerMedicareSupplement.com
EmpowerMedicareAdvantage.com