The Holidays Are Here!
You know what that means. Candy, sweets, and treats! How can we control ourselves from falling into the endless cycle that we get into every year? October 1st hits and immoderately we start snacking on candy corn or our favorite Holiday candy.
As you know Walmart and all other big-box grocery stores are already pushing their candy and treats. Some stores even have Christmas lights and Christmas trees out already!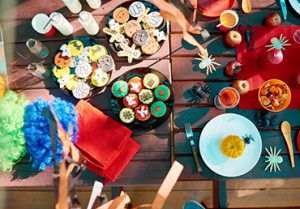 Now, I know we are a bit early with this article, but as festivals and holiday events start to kick off mid-October, I feel its time to mention my list of 'Dos and Don't's.
The Do's
Enjoy the candy and treats, but in moderation. I don't mean half a piece a day. A few pieces (two or three) won't hurt you. Just don't do what I do and grab a bag of Peanut M&Ms and eat them in one sitting.
Brush and floss your teeth! We already (should) do this on a Semi-daily basis. But make sure to be extra vigilant of doing it. Often times people tell me they forget one time here and one time there, don't forget! Ever.
Try and stick with hard candies. Hard candies take longer to eat, meaning you'll eat less and ultimately it will be better for you.
Dark Chocolate is always a good option too! "Dark chocolate that is 70 percent cacao or higher has more antioxidants and less cream and sugar," noted diet and nutrition expert Shoshana Pritzker, RD, CDN.
The Don'ts
Try not to consume more than three pieces a day. Candy is high in fat, sugar, and creams (more sugar) so having too much candy could lead to weight gain or cavities.
Stay away from M&M's, skittles, or any small candy that is easy to eat large amounts. This one is difficult for me, M&M's with peanuts is my jam, I have no idea what I'd do without them but sometimes you need to just step away. Especially when there are king-size baggies floating around or large bowls.
Don't leave a candy jar in sight of you all day. Out of sight, out of mind. Put the candy jar in the cabinet or a desk drawer you never go in. Keep it out of your sight and you might very well just forget about it!
This one may seem out of place, but don't entirely ignore your cravings. Take it from someone who has tried to diet so much I could write a book about it. If you entirely avoid the craving then when you finally give in, and you WILL give in, you'll overdo it and gain back all that weight you lost. A piece or two a day is perfectly fine. Larrian Gillespie, MD says "It takes a week to lose two pounds," she says, "yet you can eat [those two pounds] in a day. If you keep telling yourself not to eat something, you will just get in a cycle of hopelessness and eat things you don't need."
Now that you have those Do's and Don'ts get out there. Enjoy a piece or two a day, but always remember moderation.
Get affordable health insurance quotes by clicking here.
Or call us directly at (844)-410-1320
Since insurance is oftentimes overwhelmingly confusing, we want to shed light on this industry by answering YOUR questions so submit a comment below!