Did you know that regular manicures, done by a professional or by yourself at home, lower the chance of your nails developing fungi and other infections? Our hands are exposed to a lot of elements and products every day, so it is important to have a deep cleaning so the dead skin cells on your hands can be properly removed. If you are anything like me, you enjoy a nice manicure and having your nails look great for any occasion. So, during quarantine, many people have undoubtedly missed their usual nail technician or salon. Now that salons have opened up, here is an overview of what I experienced on my first salon appointment post-quarantine, and some common courtesies to follow.
First Salon Appointment Post-Quarantine
I will admit one of the first things I did when shelter-in-place orders were eased was to schedule a nail appointment. But hear me out: getting regular manicures has helped me quit the terrible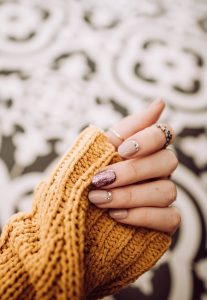 habit of biting my nails. AND one of the first things I notice about people is how clean their hands and nails are. It is very important to me to have manicured cuticles and healthy nail beds. I have to say, though, my first visit since quarantine was not much different from before. My nail technician holds herself to very high standards when it comes to cleanliness. She can always be seen cleaning her work station after each appointment, and sterilizing any non-disposable tools before and after they are used. When I initially scheduled my appointment with her she sent clear instructions about what she expects from her clients in order to keep herself and others safe. Upon arriving at the building I simply called her to let her know I had arrived. She came to let me in the door to avoid having too many hands touching the handle. I immediately washed my hands with soap and warm water before being seated at a recently cleaned station where the nail tech then placed disposable towels for me to place my hands on. Of course, we both wore masks, and there was a piece of Plexiglas between us. Everything besides the electric nail tool was disposable and still in sealed wrapping when she pulled them out to use on my nails. They were immediately thrown away once they were no longer needed. Now, I was skeptical of the normal dipping powder I use to polish my nails, the thought of other people's fingers being dipped in the same canister and powder. But I was immediately relieved to see that the technician used small disposable cups to pour small amounts of powder so as not to cross-contaminate. The very small amount that remained at the end was thrown out, which is a costly but necessary precaution. I was able to pay the technician through an app on my phone so money did not switch hands and there was no need to use plastic that has certainly collected germs. The salon I frequent is by appointment only so it allows for just one client at a time, which already helps with social distancing. I felt comfortable visiting my salon again and am glad my nail tech is looking out for her clients' well-being.
Common Courtesies
If you are ready for your first salon appointment post-quarantine, keep in mind that it won't be exactly the same as it was before. There will be more rules and regulations from the moment you schedule your appointment to the time you pay. To find out exactly what requirements nail salons must follow, click here.
Schedule an appointment even if your salon accepts walk-ins. Salons are trying to limit how many people are in the building at one time and would benefit from being able to expect you at a certain time. They may also be staffing fewer people since they cannot keep every station open while social distancing is in effect. Further, the salon may request that you wait in your car until you are told to come in, so having a scheduled appointment will help regulate this.
DO NOT come to your appointment if you have symptoms of being sick. This is standard and should have been one of your everyday guidelines even before COVID-19. Even if you don't think you have coronavirus, any illness can leave people vulnerable. This is a common courtesy regardless of what illnesses are going around. This rule should be followed every day, in every situation.
Avoid bringing your children to your appointment. Don't bring anyone with you if you don't have to, the fewer people in the salon, the better.
Wash your hands immediately upon entering the building.
Even if your salon does not require it, wear a face mask. This is a common courtesy for the employees and other clients around you.
Set up a contactless-pay app on your phone if you can. If your salon accepts payment apps, such as Apple Pay, Google Pay, or Zelle, link your card to one so you can pay without having to exchange money or cards. These apps safely store your payment information and are readily available right at your fingertips.
Insurance Questions?
Empower wants to help you get the best insurance for your needs and the most for your money. We want to help you stay on top of your health.
CALL US at (844) 410-1320
Get affordable health insurance quotes by clicking here.
See our other websites:
EmpowerLifeInsurance.com
EmpowerMedicareSupplement.com
EmpowerMedicareAdvantage.com