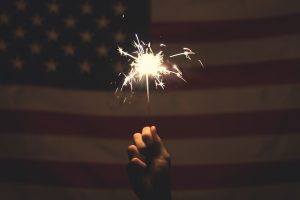 With the 4th of July this week, it's important to not only honor our country but be cautious of risk. With Americans, there are multiple dangers during this holiday and that's easy to forget during the celebrations. Today, we would like to take the time to share some of the most common dangers during the 4th of July to keep your celebrations fun and safe!
4th of July Hazards
One of the biggest dangers of the 4th of July celebration is the fact that a lot of Americans drink. With a number of families traveling during the holiday, it's important to have a designated driver. With the 4th called the deadliest day to drive be sure to watch how much you drink in order to protect yourself and others on the road. Most 4th celebrations must have a cookout, it's the 4th of July why not! Even with the grill masters on board, barbecues can become accidents fast. Be sure if you leave your grill unattended you should lower or completely turn the heat off. Move your grill as far away from anything flammable as possible. Make sure when you're done grilling to turn it off completely to prevent lingering fires.
Firework Hazards
This one should be obvious but firework accidents happen very often each year. It's important to follow firework safety tips in order to avoid any major accidents. Remember these important rules when handling fireworks, never try to re-light fireworks that have not ignited fully. Never keep fireworks around children or aimed around your house. Keep a water source close in case anything sets fire. And be courteous to your neighbors. Some veterans who have PTSD can be triggered by fireworks and it's important we are able to respect their service.
Why We Celebrate the 4th
We celebrate the 4th of July because it marks the declaration of independence from Great Britain in 1776. This holiday should mean so much to us all because we have been able to last as The World power for almost 300 years. We are free from tyranny, we are able to live comfortably, and most of all get to work towards the American dream. Here at Empower, we wish you a safe and happy 4th of July.
---
Get affordable health insurance quotes by clicking here.
Since insurance is oftentimes overwhelmingly confusing, we want to shed light on this industry by answering YOUR questions.  If you have any questions, comment below and your question may be the topic of our next post!