Make Your Halloween Spooky And Fun
It is almost the end of October and you know what that means: Halloween is here! You remember going trick or treating with your friends for years. However, you and your friends are now too old for trick-or-treating. How else do you make your Halloween fun and special? Here are some ways to make it good this year.
Throw A Halloween Costume Party
Decorate your house spooky for the party. Send your guests an invite to 'dress to scare'. This would be a good way to get together with friends you haven't seen in a while. Thus, a great way to make your fright night memorable. You can change your place into a haunted house. This would be a great way to create ghostly vibes.
Here Are Some Party Prep Ideas
Craft your foods into Halloween colors. Orange, green, purple, and black are popular colors. Get cupcakes with spiders and web fondants. Pumpkins are a must. Carved pumpkins with lights inside are an intimate way to keep your house dark yet candlelit. Furthermore, create the best Instagram background for pictures in the party. You can create a ghoulish themed photo booth with eerie props. Adding some fancy and dark lighting always helps to create a Halloweenie effect. Smoke machines are also good for creating a spooky atmosphere on the dance floor.
Best costume awards can be an attractive incentive for your guests to put effort into their costume so you aren't the only one dressed up. Make sure to mention the award on the invitation! Cover your house with artificial spiders and other insects. Putting spider stickers around the floor and lower side of the wall can create even more spookiness at the party.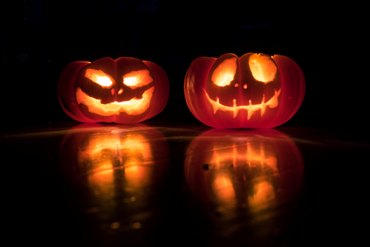 Dine At A Haunted Mystery Dinner Place
Planning a date with your partner is another Halloween idea. This could be your romantic, still spooky Halloween. A nice candlelit dinner in a haunted house dressed in your scary Halloween costumes sounds fun. You can also find a restaurant nearby who might be hosting a Halloween night dinner. You could take a break from regular cooking and have a nice meal.
Attend A Halloween Party
If you are not planning to throw a Halloween party, attend one around your neighborhood or at a friend's place. It could be much less effort as compared to being a host.
Scary Movie Night
Host a night of scary movies with your closest friends. Rent a projector and set it up in your backyard with a bonfire and smores. Decorate your backyard with spooky Halloween stuff. Or instead, have a scary movie night with your family. It would be a nice way to keep it low key but still fun.
Go To A Haunted House Or A Maze
Visiting a haunted house is a great way to make your October 31 memorable. Visit with your partner, your friends, or your family for a great adventure. You can also find your way through an outlandish maze.
Noble Cause Halloween
Find a Halloween themed running event near you. Personally, going on a 5K sounds like my kind of Halloween celebration. This could be a good way to give back to society and work towards a good cause. Check out some community events in your locality. This could be fun and frugal.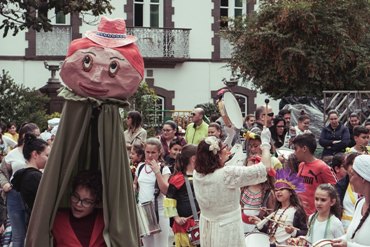 To get help and pricing for your insurance needs, call us at 1-844-410-1320 or request an agent here.
See our other websites: