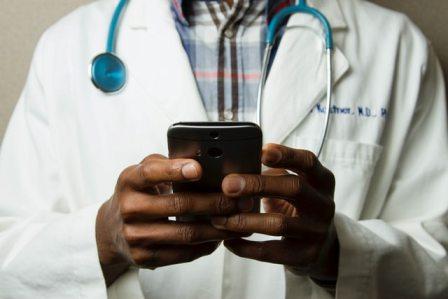 Rare skin conditions, phantom pain, internal disorders presenting as external symptoms: physicians are often faced with tough cases and seek diagnostic help from their peers. In the age of social media, the Figure 1 app is making it easier than ever for health care providers to share cases with one another. The app allows medical professionals to safely share images and information regarding hard-to-diagnose cases and real-life medical anomalies with other providers and individuals interested in the medical field.
Improving the Future of Healthcare
Critical care physician Dr. Joshua Landy conceptualized Figure 1 after spending a semester at Stanford, where he noticed many physicians were using email, text, and social media messaging to consult other physicians about hard-to-diagnose cases. Without a designated channel, he realized, patient photos were not being protected, nor were the conversations being tracked for future educational purposes. Landy enlisted the help of Gregory Levey and Richard Penner to develop the Figure 1 app, which released in the Apple App Store and on Google Play in March of 2013.
To date, Figure 1 has a total of 4.7 out of 5 stars on both the Apple and Google-run app platforms, as well as many shining reviews. While only verified medical professionals can upload and comment on posts, anyone is free to view the fascinating, albeit sometimes gory, images. According to their website, "Figure 1's mission is to democratize medical knowledge and improve the future of healthcare," by allowing doctors, nurses, and physician assistants the ability to discuss conditions they may never get to see in their own practices.
Patient Confidentiality
The goal of Figure 1 revolves around keeping patient identities safe while offering health care providers the opportunity to collaborate with a large network of medical professionals. The app includes four built-in privacy measures: built-in consent forms, automatic face-blurring software, manual image manipulation like blurring and cropping identifiable information, and a 24-hour case moderating team that ensures no one posts private information without a patient's signed consent.
Educating Tomorrow's Medical Professionals
It is estimated that just under one-third of U.S. medical students regularly use Figure 1 as an educational tool. In some instances, these students even help diagnose critical cases. In the mid-2010s, a nurse shared a photo of a skin rash that had stumped every doctor and nurse in her network. A first-year physician assistant student suggested Porphyria, a rare disorder relating to the chemical buildup of red blood cell proteins in the body. Porphyria is so rare, in fact, that physicians do not consider it in most cases. The student has learned about the disorder in one of her classes, and her diagnosis helped save the patient's life.
On their website, the founders of Figure 1 state, "we see physicians in field hospitals treating Syrian refugees, physician assistants treating patients on remote Alaskan fishing boats, and surgeons demonstrating cutting-edge techniques to an audience of their peers. Thanks to our global community, we've been able to connect healthcare professionals from around the world with the help they need in the moment they need it."
To learn more about Figure 1, visit their website.
Health Insurance Questions?
Do you have questions about health insurance policies? Call us at (844) 410-1320.
Get affordable health insurance quotes by clicking here.
See our other websites: