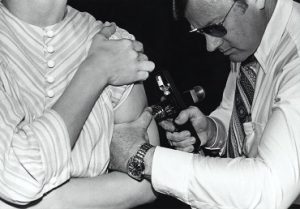 It looks like the first vaccination for COVID-19 is to begin human testing according to manufacturers Moderna. From the previous testing done in March on eight people, the drug seemed to make healthy volunteers make antibodies against COVID-19. The antibodies developed were then able to stop the replication of the virus, which is key to the vaccine being effective.
The First Vaccination For COVID-19 From Moderna
Comparing the first vaccination for COVID-19 to those who have contracted the virus and recovered, the antibody levels found in those who took the vaccine are comparable to each other making Moderna hopeful that the vaccine testing can begin its next phase. That phase will include a higher number of testing with an accelerated timeline, due to the current virus spread which has had over 1.55 million confirmed cases in the US alone and over 90,000 deaths. The accelerated testing hopes to study at least 600 people. According to Moderna, the vaccine was "generally safe and well-tolerated" similar to other vaccines made by the company. In the eight volunteers, the only side effect found was redness around the injection site in one volunteer which was graded level 3 adverse event meaning it was severe. The clinical trials have a total of five levels of how to rate incidents observed.
Statement From Moderna
Stéphane Bancel, CEO of Moderna, said in a press release that "the Moderna team continues to focus on moving as fast as safely possible to start our pivotal Phase 3 study in July." Bancel added that Moderna is investing to scale up manufacturing in order to maximize the number of vaccines it can produce "to help protect as many people as we can from SARS-CoV-2,", this is the virus that causes COVID-19.
Other vaccines are currently being developed, but none have proven to be a solution to the current coronavirus that is being spread. Will Moderna be the first breakthrough?
Insurance Questions?
Changes Due To The Virus could impact everyone. Do you think recognizing the current effects of COVID-19 will help us thwart lingering effects? Tell us in the comment section below!
Empower wants to help you get the best insurance for your needs and the most for your money. We want to help you stay on top of your health.
CALL US at (844) 410-1320
Get affordable health insurance quotes by clicking here.
See our other websites:
EmpowerLifeInsurance.com
EmpowerMedicareSupplement.com
EmpowerMedicareAdvantage.com