We already know that dogs were born to work, from assisting hunters to catching criminals, but perhaps their greatest claim to fame is that nose! For years dogs have been trained to sniff out cancer and Parkinson's disease (among many other things), so it is only natural they would lead the charge in detecting COVID-19. Medical detection dogs could be the solution to the lack of testing many countries are currently facing. Medical Detection Dogs is an England-based charity that specializes in training dogs to detect diseases in humans. The organization plans to train six dogs to sniff out COVID-19 if the initial trials are successful.
Dogs Sniff Out COVID-19
The London School of Hygiene and Tropical Medicine (LSHTM), Durham University, and Medical Detection Dogs charity are working together to determine the potential for dogs to detect the virus. Behavioral psychologist Dr. Claire Guest is optimistic about the future of detection through canines, stating, "there is absolutely no reason why a dog can't detect the virus." It will still be several weeks before we know if dogs are able to detect the virus, but they would be able to sniff-test 750 people per hour. That would significantly increase the number of people who could potentially be diagnosed or simply quarantined immediately to slow the spread of the virus. The scientific approach to training the dogs consists of giving dogs coronavirus patients' face masks to see if COVID-19 has a distinct odor the dogs can detect. James Logan of LSTHM said, "it's early…we do not know if COVID-19 has a specific odor yet, but we know that other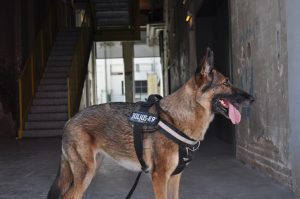 respiratory diseases change our body odor" so it is very likely COVID does have a specific odor and this will be helpful in the near future. Dr. Guest anticipates that dogs will even be able to screen people who are asymptomatic and may need to be tested. She envisions it as a "fast, effective, and non-invasive" way to make sure limited resources are only used when absolutely necessary.
Why Dogs?
Dr. Guest boasts, "there have already been so many fantastic achievements in the dogs' work to detect human disease," nothing should be able to prevent them from tackling this virus. Medical Detection Dogs charity has already had great success with their dogs detecting prostate cancer, and that detection rate was documented as high as 80%. Some dogs will go on to use their sensational sniffers for further employment as well. While they are already useful for security purposes at airports all over the world, Professor Steve Lindsay predicts that if all goes as planned, "we could use COVID-19 detection dogs at airports at the end of the epidemic to rapidly identify people carrying the virus." Experts hope this will help keep the virus from recurring so often once we have it under control. All the doctors and scientists currently leading this trial remain optimistic that dogs can identify those who need to be tested and self-isolate, and this will be greatly beneficial to stopping the spread of the virus.
Insurance Questions?
Empower wants to help you get the best insurance for your needs and the most for your money. We want to help you stay on top of your health.
CALL US at (844) 410-1320
Get affordable health insurance quotes by clicking here.
See our other websites:
EmpowerLifeInsurance.com
EmpowerMedicareSupplement.com
EmpowerMedicareAdvantage.com