Do cabbage leaves ever cross your mind when dealing with inflammation? Turns out, they probably should! The latest trend is using cabbage leaves for inflammation relief in your joints. Here is the latest news on the latest trend.
Now Trending: Cabbage Leaves for Inflammation Relief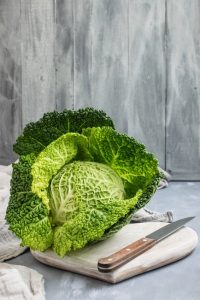 Popular among moms ready to stop breastfeeding, a cool cabbage relieves pain, reduces swelling and inflammation. There are now new treatments people are calling "cabbage bandages." More recently people have started using this method to relieve inflamed joints. It's still uncertain whether there are compounds present in the cabbage or if it's simply being used as a cool compress. Applying cabbage topically has had positive effects, but adding more cabbage to your diet can be even more beneficial. Cabbage contains anthocyanins and flavonoids, both of which reduce inflammation. An added bonus: these can also boost weight loss.
Making a Cabbage Bandage
Wash cabbage, and then cut away the stem.
Placing one large leaf on a cutting board, hit it just hard enough to "bruise" it but don't break it apart. Doing this will release the "healing juices."
Wrap the leaf in aluminum foil and heat in the oven for two to three minutes. This will soften it to help it wrap around the inflamed area without breaking. Ensure that it's not hot to the touch before applying it to your skin.
Place leaf directly on the skin and secure with gauze. The cabbage should sit for an hour or so, it can be used overnight if your skin is not sensitive to it.
These steps can be repeated as many times as needed. But it is important to give your joints a break from overexerting yourself physically.
Got Insurance Questions
Empower wants to help you get the best insurance for your needs and the most for your money. We want to help you stay on top of your health.
CALL US at (844) 410-1320
Get affordable health insurance quotes by clicking here.
See our other websites: