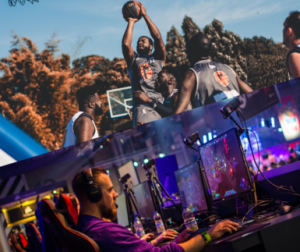 At the beginning of the pandemic in the United States, every major sports league was forced to temporarily stop competition while they figured out how to hold sports competition during COVID-19. eSports was also affected by the pandemic but their industry was much more quickly able to transition due to the ability to compete online.
Extreme Measures In Sports
The physical sports industry was greatly impacted by the pandemic, and have been desperately trying to come up with a way to have sports during it. Recently the leagues have come up with methods of holding their competition safely. The NBA has created what they are calling the "NBA Bubble" where they are having all the teams play their games in the ESPN Wide World of Sports Complex in Disney Orlando. The players and teams who enter the competition in the bubble are only allowed to leave after they are eliminated from playoff competition or for emergencies. They are also testing for Coronavirus daily and requiring essential workers that need to enter to be tested before entering as well. These extreme measures will hopefully maintain the safety of players and team staff during the pandemic.
eSports Response and Popularity Boom
As the pandemic continues to surge, the number of people playing video games has skyrocketed and along with this, the rates at which people are watching video games have also risen noticeably. eSports competitions before the pandemic were conducted live in stadiums, like physical sports, so the eSports industry has been affected rather dramatically as well. Several eSports have had to change their formatting from fully live to fully online, such as the Overwatch League who changed their 2020 season to all online play when they started by playing every game in a stadium. Unlike traditional sports, eSports were able to quickly shift their competition to fully online play while still being able to host most of their competitions. This allowed eSports leagues to quickly kick back up after only a short pause. The eSports industry was already growing rapidly, with it becoming an over $1 billion industry in 2019, but the pandemic making it markedly more difficult to have traditional sports competition has grown it even further.
Sports and eSports After The Pandemic
After the pandemic is over, eSports will likely maintain the boost that it has received from the effects and people will likely be eager to go out and see their favorite physical sports teams compete. I believe that eSports will continue to grow further after the pandemic and physical sports will bounce back with a huge initial boost of excitement after the pandemic is over.
Insurance Questions?
Empower wants to help you get the best insurance for your needs and the most for your money. We want to help you stay on top of your health.
CALL US at (844) 410-1320
Get affordable health insurance quotes by clicking here.
See our other websites:
EmpowerLifeInsurance.com
EmpowerMedicareSupplement.com
EmpowerMedicareAdvantage.com