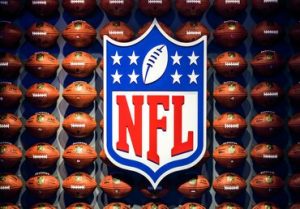 As of right now, despite multiple games being postponed and moved to different dates, the NFL has no plans to bubble. The bubble that worked so well for the NBA, which had 0 positive tests in over 100 days in a bubble at the Walt Disney World Resort in Orlando, and the NHL's dual bubble in Calgary and Edmonton that had no positive tests over a similar period.
However, they will implement some new rules to try and curtail the spread throughout their ranks. Starting this week, the NFL will require players and coaches to wear masks during walkthroughs. The updated NFL protocols, sent out by commissioner Roger Goodell to the 32 NFL teams, also says that a person who is considered "high risk" to contract the virus must stay away from the facility for five days, even if they test negative.
Just last week, the Tennessee Titans had to have their game against the Buffalo Bills rescheduled due to eight positive tests within the Titans team. They did shut down their facility, but Titans players moved to a local high school to continue their activities, which was in violation of the NFL's protocol.
Troy Vincent, the NFL's league EVP of football operations, cited the mental health side of things as to why the NFL does not want to go into a bubble situation. The bubble would cause players and coaches to be away from their families for an extended period of time, albeit not as long as the NHL or NBA had to do it. This is obviously subject to change, but the NFL's stance as of today is that a bubble will not take place.
While a bubble might not be the NFL's number one option, it might be the only option for them as time goes on. With cases on the rise and the weather getting colder, more people will be inside thus making them more susceptible to the virus. At the end of December when the regular season is over, it is entirely possible that the NFL's stance on the bubble could change.
Health Insurance Questions?
We hope this information on the NFL has no plans to bubble is helpful. 
Empower Brokerage wants to help you understand the insurance coverage you need and how to save money getting it. Stay on top of your health and give us a call at (844) 410-1320
Get affordable health insurance quotes by clicking here.
See our other websites: