While everyone has been busy at home trying to avoid a state of endless boredom, the environment has seen some positive changes. A newly published COVID-19 Air Quality Report shows that air pollution is hitting record lows in some of the more notoriously polluted cities in the world. The report states that air pollution levels in some major cities have dropped by as much as 60%.
Air Pollution Levels Have Dropped
The test analyzed fine particle pollution (PM2.5) in 10 major global cities. Results from a 3-week period during lock-down conditions were compared to those from 2017, 2018, and 2019.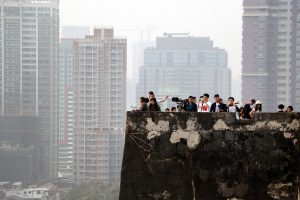 The same time period across different years was used so as not to skew results based on weather patterns in different seasons. Seven governmental agencies recorded hourly fine particle pollution readings to compare to the readings from previous years. The most dramatic drops occurred in cities with historically high levels.
Delhi saw a whopping 60% decrease in PM2.5 readings, their best air quality on record, while Seoul saw a 54% decrease.
With China being the most notoriously polluted country, Wuhan saw a surprising 44% reduction in measured pollution.
Los Angeles saw its longest period of clean air to date; New York City saw a 25% pollution drop.
IQAir CEO Frank Hammes says that the coronavirus pandemic has had a surprisingly positive impact on the way we live. As people stay in their homes, and businesses are on hiatus, we are "witnessing how much air pollution comes from human activity." With the passing of Earth Day's 50th anniversary, it is important that we see how our habits and behaviors directly impact the air we breathe. Anyone who wants to make a difference while they are stuck at home is advised to research air pollution and how much of an impact it has on our health and longevity. Many will be surprised to find how greatly it impacts the health of the earth.
Implementing Change
Closing down schools, restaurants, and bars, and banning social gatherings limited so many things that people do to unknowingly pollute the earth. Without having anywhere to go, and having a shelter in place order in most states, air pollution levels have dropped due to fewer drivers on the road and businesses limiting their hours and not using as many resources. Most factories maintained their regular schedules but experts would have measured even lower pollution levels without them. This year's Earth Day theme is climate action, and if one good thing that came from this pandemic it's that we have learned we can live our lives without putting out so much pollution. Find out what you can do in your community to make a difference in the environment, climate action should extend past quarantine!
Insurance Questions?
Empower wants to help you get the best insurance for your needs and the most for your money. We want to help you stay on top of your health.
CALL US at (844) 410-1320
Get affordable health insurance quotes by clicking here.
See our other websites:
EmpowerLifeInsurance.com
EmpowerMedicareSupplement.com
EmpowerMedicareAdvantage.com