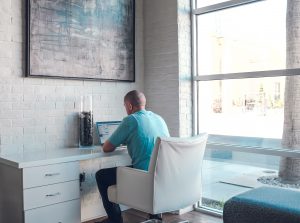 You woke up this morning to get ready for work. You grabbed a cup of coffee, threw your robe on, and pulled out your laptop. Won't be using your car today, because you have recently been allowed to work from home. No traffic, no stop lights, no crazy drivers. This sounds like a dream come true for some of us in cubicles or with long commutes. With the spawn of technology over the last few decades, working from home has become a popular way to remotely work from your office. It sounds like a great idea, but a recent study suggests homework might be detrimental to your health.
The Benefits of Working from Home
Due to the popularity of remote offices, more companies have begun to let their employees work from home. Working from home has been noted to improve employee satisfaction. Attrition is not a huge worry when working from home, with employees feeling more compelled to complete a task on time and as quickly as possible. You can also expect fewer absences from people who call in sick, due to the fact that employees have the work available right in front of them and able to access from home. Employees working from home also can save you money, by employers having to provide fewer accommodations because of mobile access. Employees have also become more independent when working from home by self-directing themselves.
The Negatives of Working from Home
Although the benefits of working from home seem to outweigh the bad, remote offices have shown a noticeable effect on health. Homework has been noted to increase the chances of strain injuries from inflammation of the muscles. The repetitive actions of typing and your keystrokes could cause future problems with your hands. You might think the workplace is stressful, but the stress of working from home can be just as bad. Our homes are a place of peace and with working from home you lose that peaceful spot. Working from home also might be more stressful if you ever miss something or left out of the loop compared to being in the office to work with direct communication. Working from home might create a bad work ethic being around tempting distractions all the time. Taking a 10-minute break can become an hour with Netflix involved. There is also nothing keeping you from the junk foods in your fridge.
With the benefits and dangers of remote office work, it would be a good idea to spread out your time spent. Half in the office and half at home to ensure you don't get caught up in an unhealthy work lifestyle. Stay tuned for more articles, and give us a comment with the topic you want to read about next.
---
Get affordable health insurance quotes by clicking here.
Since insurance is oftentimes overwhelmingly confusing, we want to shed light on this industry by answering YOUR questions.  If you have any questions, comment below and your question may be the topic of our next post!