Clothing could become another form of medical identification, according to a recent discovery by Tufts University School of Engineering. There is a possibility that we will be able to wear clothing that changes color depending on the chemicals released from our bodies or present in the air. Designed with biomaterial-based inks, these wearable sensors "provide a detailed map of human response or exposure" to various chemicals.
Wearable Sensors
Advanced Materials first reported the idea of "wearable sensors" and determined they can read many biological conditions, and even sometimes pathogens on the body simply using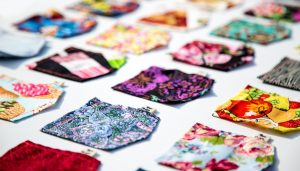 conventional garments. "Bioactive inks" and the screen printing method bring about "promising opportunities for…wearable fabrics with large numbers of sensors that could be applied to detect a range of conditions." Researchers hope these fabrics will end up in work and sports clothing, as well as upholstered furniture. These sensors could make a positive difference in monitoring human performance and health. Wearable sensing devices work much the same way as wristbands and other monitoring devices, except that bioactive inks are printed on your clothing, so you will no longer have to worry about forgetting your monitoring device. Sensing fabrics are made up of "biologically activated silk-based inks." Molecules in these fabrics can indicate dehydration through pH detection and levels of fatigue through levels of lactate in sweat.
Development
The same team behind the wearable sensors was the same one who initially began developing bioactive silk inks. The original plan was to be able to make Petri dishes and laboratory gloves that would indicate bacterial contamination by changing colors. Giusy Matzeu is the first author of the paper, she says that "the screen printing approach provides the equivalent of having a large, multiplexed arrangement of sensors covering extensive areas of the body if worn as a garment, or even on large surfaces such as room interiors." An architect graduate from Tufts even had a hand in creating interactive tapestries display in museums in the U.S. and Europe. These displays allow visitors to spray non-toxic chemicals on the fabric to see what patterns show and what those patterns mean. Experts hope that this new process for detecting chemicals off our bodies can be used much the same way to test air quality in the future.
Insurance Questions?
Empower wants to help you get the best insurance for your needs and the most for your money. We want to help you stay on top of your health.
CALL US at (844) 410-1320
Get affordable health insurance quotes by clicking here.
See our other websites:
EmpowerLifeInsurance.com
EmpowerMedicareSupplement.com
EmpowerMedicareAdvantage.com